THE JEFFERSON MUSEUM OF SCIENCE AND NATURE
MICROSCOPES - TELESCOPES - FOSSILS - PRAIRIE
---
Gonioceras explorations
I give talks to local school groups about fossils in Wisconsin. I recently gave a talk for youngsters for the summer programs at the public library in Jefferson, WI, (halfway between Madison and Milwaukee.)

I encourage them to bring rocks for identification. Someone brought a mystery fossil from the local Ordovician outside nearby Lake Mills. Thumb included for scale. I was a bit stumped!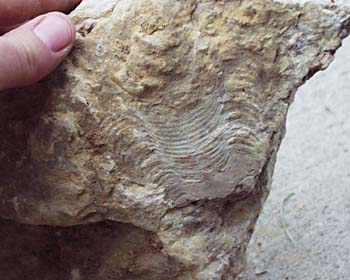 Click image for larger view
At first I thought I was looking at an external mold of the carapace of a large trilobite. The lower end is suggestive of a worn pygidium, and the sides as the curving of spined pleural lobes, and it is so symmetrical! But other clues say it's not a trilobite: the pleural lobes are too narrow, and it probably has too many segments in the thorax...
Cephalopods of this diameter are of course common around here, but it doesn't seem to be a part of one. The center lobe is definitely concave, but what would be the pleural lobes are arguably convex up from the surface of the rock. In some ways, it reminded me of a present-day cuttlefish's "bone". Certainly a cephalopod is symmetrical, but I'd never found a preserved part of their body that wasn't a tube.
Paul Mayer, the Geology Collections Manager of the Milwaukee Public Museum, sent the picture below of a fossil in their collection. This is an example of Gonioceras kayi from the Platteville Fm. in Grant County, Wis. with centimeters for scale.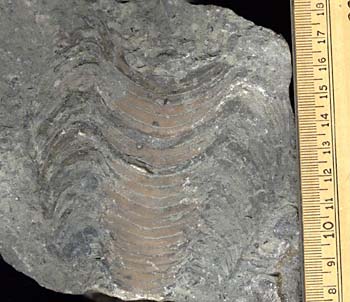 Click image for larger view
This University of Texas-Arlington Mollusca page shows this illustration from Fenton & Fenton, The Fossil Book, 1958, Doubleday & co., p.182, that includes an artist's conception of Gonioceras, as (1) at bottom:
But I'm having a hard time pairing the morphology of this fossil to the critter in the picture. Was Gonioceras a very flat cephalopod? Is the fossil just the upper part, and there was no tube?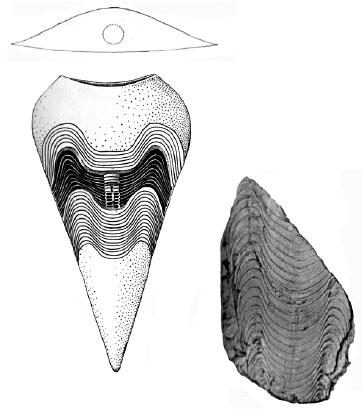 Andrew Grebneff
Dunedin
New Zealand:
Both are indeed Gonioceras sp(p). Gonioceras is a flattened orthocone... in cross-section the shall has a flattened venter; the dorsum is convex centrally and the edges are tapered to sharp edges, with concave sulci running along either side. These beasties have been called "nautiloids", but have incredibly complex siphuncles, unlike the simple siphuncles of true nautiloids. I collected Gonioceras in western Newfoundland in 1990.
and
I attach jpeg images of Gonioceras scanned from Treatise K . One is an outline in anterior view, with position of siphuncle marked. One is a photo of a fragment in ventral view, showing the sinuous septa. The other is a drawing of a complete shell, with a group of septa and section of siphuncle included.

The venter is slightly convex but fairly close to flat, and the shell may well have rested on the sea bottom. The dorsal surface is compressed, with a thicker section in the center, where the head of the animal was located. At full adulthood thew aperture became constricted.

Your specimen, like the illustated one here, is a steinkern or internal cast, with the septal walls preserved; the camerae (chambers) are infilled with matrix; the shell walls are broken away, probably still adhering to the external mold (which is presumably still attached to the countryside somewhere).

Calling this an orthocone ("straight cone") is strictly correct but most orthocones are cylindrical in section. Gonioceras is very compressed dorsoventrally.
----
---
Return to the Jefferson Museum Of Science And Nature or the Jefferson Computer Museum.
Copyright 2006 , All Rights Reserved. THIS PAGE MAY NOT BE USED OR PUBLISHED IN ANY FORM (WRITTEN, CD-ROM, ETC.) WITHOUT EXPRESS WRITTEN (HARDCOPY) PERMISSION FROM JOHN FOUST.